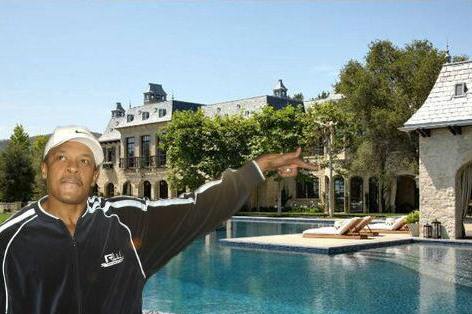 We gave you a look at
Tom-and-Gisle's mansion
in Brentwood, CA back in November, but now we're going to have to go back in the archives and change the story, because it is no longer theirs.
Fresh off selling his business selling over-priced headphones to hipsters (or maybe hiphopsters?), Dr. Dre has taken part of his money and put
it into the moated palace
that was once owned by the celebrity couple. About $40 million or so of his money.
The house, which you might recall was big enough for their family to live in for extended visits, but billed as environmentally friendly (salvaged tile and solar panels), was expendable because the couple are apparently focusing more on New York as the place to live their dream life. They will be downsizing to a penthouse in the $10-million range.
Although there are multiple stories on this, we will reference the sports news website Bleacher Report for our information here. Plus they are the source of the Dr. Dre picture above which we just HAD to use.
So no more pictures of Gisele in her garden. Reminisce with us here:
Link:
http://bleacherreport.com/articles/2085679-dr-dre-buys-tom-brady-and-gisele-bundchens-moated-mansion-for-40-million