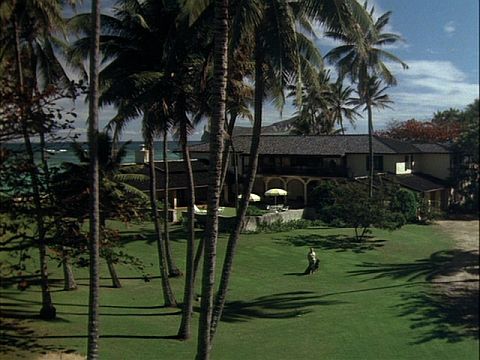 The house used in the beloved eighties show "Magnum, P.I." is up for sale. And if you remember the show, you know this is not just some run-of-the-mill property. This is Robin's Nest. Actually, it's name is Pahonu (means "Turtle Enclosure").
Nope, this is in Hawaii, for starters. Specifically Waimanalo. Since real estate there is worth it's weight in pineapples, any house for sale costs an arm and a leg. Then you put it on the ocean with great views. Hit the multiplier button for the price. Add in that it is a luxury estate and that a popular tv show filmed there and it becomes downright expensive.
"Hey, I was only staying in the guest house."
How expensive? Asking $15,750,000. Assuming your credit score gets you a good mortgage, your payment for principal and interest would be about $83,000/month.
For that, you get a parcel with three acres (the show said it was 200 acres--they lied), a gatehouse, tennis court, extra large garage (four cars), five bathrooms, five bedrooms, a guest house (you already knew that, right?). Looking for that little bit extra? How about the advertised turtle pond? You don't see many of them in Downriver.
Total square footage is over 10,000, including the spaces Magnum used to torment Higgins.
Meeting Tom Selleck is not included. Nor is a Ferrari. On the other hand, a quick meal with Apollo and Zeus is possible.
Link:
http://www.pruadvhawaii.com/pages/161053/sys_268/id_9194603/HI/Waimanalo/41-505-Kalanianaole-Highway.aspx